Wood Burning Masonry Heaters
Ancient Technology Updated
The Stone Sun Company specialises in the UK promotion and installation of highly efficient wood burning technology that has been developed over hundreds of years. Masonry Heaters are already popular in many countries over the Northern hemisphere including; Germany, Scandinavia, Russia and North America.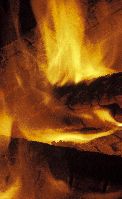 Masonry heaters, Russian fireplaces, Finnish Stoves, Kachelofen as they are known in different parts of the world were inspired as a result of the first energy crisis in the 18th century when much of Northern Europe started to become deforested. The King of Sweden ordered the reinvention of the domestic fireplace and thus Masonry heaters were born. It was now possible for people to heat a home for a whole week using the same amount of wood that was originally used in just one day.
This Ancient Technology has been utilised to produce the most efficient form of wood heating available today. The clean burning fire produces long lasting Radiant heat from a single short burning. There is no need to continually feed the fire as one burn will radiate heat into the living space evenly for up to 24 hours. The heaters are also totally autonomous having no moving parts or power requirements and therefore perfect for off the grid properties or where power supplies are unreliable.
Masonry heaters produce radiant heat the same as the Sun and are also the most healthy form of heating appliance available. Unlike metal wood stoves and open fire places the air quality in the building is not parched and doesn't affect people with allergies.
Masonry Heaters are available in many designs and each can be modified to suit individual tastes. We are able to provide Soapstone Heaters, Masonry Clad Heater cores and small Ecostoves. They are best suited as a central feature in open planned accommodation to obtain the best efficiency and are the perfect heating choice for Eco-friendly projects.
Read an article written by American writer Mark Twain (1835-1910) where he talked about the efficiency of these heaters well over a hundred years ago, and things have got much more efficient since then!
Fire-wood is the cheapest form of fuel available and if taken from managed stocks and used efficiently is completely carbon neutral meeting todays requirements. Masonry Heaters are over 85% efficient unlike wood burning stoves (less than 60%) and open fireplaces (less than 20%) giving much better output value for fuel.
The extra "Bake-Oven" option provides the perfect way to utilise some of the heat to make Bread, Pizza and other such items once the fire has burnt out and the structure can also be used to heat hot water with special heat exchanger incorporated.

For more information, See our Products